Atfaluna Wins 2018 "Exceptional Schools for a Better Future" Award.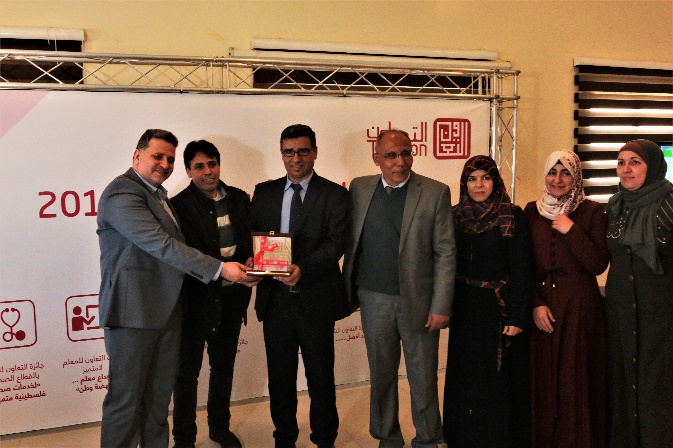 Gaza City, Palestine, 18 March 2019 – Atfaluna Society for Deaf Children (ASDC) was today named the winner of Taawon Education Award 2018: The Nabil Hani Qaddumi Award, "Exceptional Schools for a Better Future" during the winners' announcement press conference held at Taawon's office in Ramallah.
Atfaluna Society for Deaf Children was also previously awarded the "Taawon Award for Excellence and Creativity in the year 2014 for its effective efforts on the ground and distinguished work in deaf training to be self-dependent and involved in the community.
This year's award is named in honor of Dr. Nabil Hani Qaddumi in appreciation of his invaluable efforts and dedication to Palestine, this award contributes to encouraging innovation and self-development in schools.
The Education Award was designed and introduced to encourage a sense of competition among Palestine's schools, encouraging them to excel, and in turn graduate generations of youth dedicated to changing Palestine for the better.
"We at Atfaluna Society for Deaf Children are dedicated to the wellbeing and success of persons with disabilities, and we strive to ensure they enjoy their full rights in the Palestinian society despite all the major challenges we face", said Naim Kabaja, ASDC Director.
The Taawon has launched its annual awards for 2018, seven prizes worth 370,000$, of which 50,000$ for each award except for the Teacher Award, which is worth 70,000$ thousand dollars.
Atfaluna Society for Deaf Children is a non-profit organization that endeavors to empower persons with hearing disability as well as persons with other disabilities in the Gaza Strip and improve their quality of life within a disability-inclusive development framework.
For more information please contact:
Telex: (+972-8) 2865468/2828495
Email: public-relations@atfaluna.net
Share this Post:
Related Posts: